North America's melting pot is reflected in its hotel buffets. Below we've included what we consider the 10 best food presentations at buffet tables across the United States and Canada, influenced by that melting pot of cultures. Yes! You too can live that North American culinary dream.
One of the best hotel buffets on the strip!
True to its name, the Bellagio offers a vast array of unique Italian themed fare including a variety of salads, seafood, and unique desserts. The Bellagio provides the best value of all the buffets in Vegas.
The best 24 Hour buffet for the weary and hungry traveler
You can eat anytime you want at CitizenM's elaborate buffet tables. It includes a delicious breakfast buffet great for the tired, hungry traveler. Dining options include sausages, fluffy eggs, pancakes and a delicious dessert selection. Who doesn't enjoy all day breakfast!
The most lavish buffet in the city that never sleeps!
The Waldorf Astoria in New York City is synonymous with class. So, it's no surprise that the brunch buffet tables are spectacular, offering different types of caviar, a raw bar that includes lobster and clams, house-smoked salmon and a meat carving station. Breakfast buffet tables include pancakes, eggs benedict, and thick-cut bacon. Make sure to leave room for dessert so you can try the truffles, puddings, tiramisu and a host of sweet treats.
If you're a Seafood lover, there's no better place for the freshest catches of the day!
The M Resort's buffet tables offer a huge and delicious selection of cold exotic juices and other hot and cold beverages, including beer, hot chocolate espresso, Irish coffee, and cider.
Best known for its elaborate seafood buffet, the buffet tables showcase live cooking and a vast array of seafood, including crab legs, oysters, shrimp galore, steamed baby clams, sushi rolls, nigiri and Ahi tuna. Leave room for the wide dessert selection including tiramisu, cookies, éclairs, different types of crepes, Cannolis, homemade gelato and more; much more.
The Sunday brunch buffet is legendary in South Florida.
The Sunday champagne brunch is South Florida's legendary buffet. Besides all the common staples at the catering tables such as Eggs Benedict and Belgian waffles, there are also a variety of omelets served, a select variety of pasta and an array of fresh meats being carved. You can't get a more complete breakfast buffet than this!
The champagne flows along with your appetite, but not for long as the selections will leave you very very satisfied. The dining experience is topped off with live entertainment and caps off an unforgettable dining experience.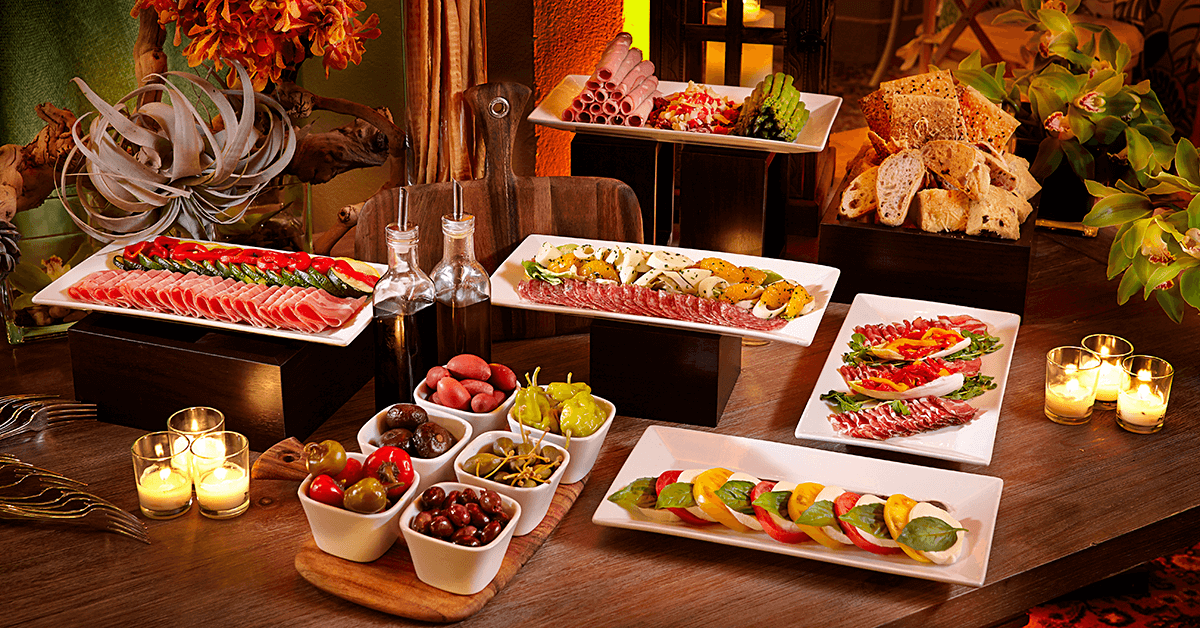 If you love seafood and great desserts, the Sunday brunch is a must!
The Sunday brunch at the catering tables of this high-end hotel, well known for its vast array of fresh seafood.
A wide selection of caviars, variety of sushi, Alaskan king crab along with a wide variety of scrumptious desserts put this on our list for wary and vacationing travelers.
Legendary for it's vast collection of chocolate desserts.
Besides having huge buffet tables that include all the food you can think of, the Langham is legendary for its large selection of chocolate-themed desserts at its all-you-can-eat buffet.
The Most Famous Sunday Brunch in Southern California
The Sunday champagne brunch here is legendary in Southern California with over 50 unique internal dishes displayed beautifully at the catering tables. Made-to-order omelets, eggs, pancakes and hash brown potatoes.
Southwestern style soups such as Albondigas and carne asada tacos as well as Asian style ribs. Salads, exotic cheeses and a carving station will tickle your taste buds, along with the vast array of desserts.
Aesthetically pleasing buffet arrangements combined with Asian and North American fare make the Peninsula one of the best hotel buffets.
Peninsula breakfasts are well-known. Beautifully displayed Chinese fare is standard at the catering tables and mixed in are offerings of Lobster, scallop congee, and steamed shrimp.
Specialty steaks, pork, and chicken sausages are topped off with a wide selection of chocolate desserts. Add to this a wide selection of pancakes, berry compote infused waffles and pancakes.
Beautiful presentation combined with Asian and contemporary delights round out our top 10!
Breakfast at this high-end hotel's buffet breakfast tables includes a wide selection of dim sum, eggs made to order, smoked bacon, sausage links, seasonal fruit and action stations, so you can build your own Buddha Bowl.
Made-to-order French toast, rice porridge, and the list just goes on and on. Top it all off with a huge variety of delicious desserts including Chinese doughnuts and freshly made pastries that take you all around the world with such diverse flavors. This makes The Westin Bayshore a top notch best hotel buffet.
---
We'd love to hear your top choices for the top buffet and catering tables at hotels in North America and around the world.